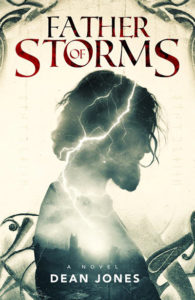 Review of Father of Storms
Author Dean Jones
Published by Black Dog Publishing
A 5 Star read from me.
⭐⭐⭐⭐⭐
Imagine losing everything you loved as well as the future you'd wished for so long to come true
There is something satisfying about reading a story that sits firmly in your favourite genre and encompasses some of the things you believe. That is precisely what I found when I read Father of Storms.
A kind of dystopian/historical fantasy that takes you into the world of Seth and his journey from birth, in what felt like medieval times right up to the present day.
The story intertwines characters that feel they were moulded from Norse mythology to some that lean on the faerie tales from ancient Ireland. A mix a blend that works well.
Dean's writing style is easy, descriptive, and at certain times brings a smile to your face as you read.
There is a certain amount of brain power needed to keep track of the timeline and which characters have made it that far into the story. I like a complexity it keeps you guessing and running back over things in your mind to be sure you are where you think you are. Here I thought it enhanced the experience of the story.
There are several plot twists that you may not see coming, which I also enjoyed. Not going to say whether they surprised me or not.
I would highly recommend the book to anyone who likes a good strong story with an easy-to-read style that keeps you engrossed.
As I said at the beginning a 5-star review from me.
You can find his book here.